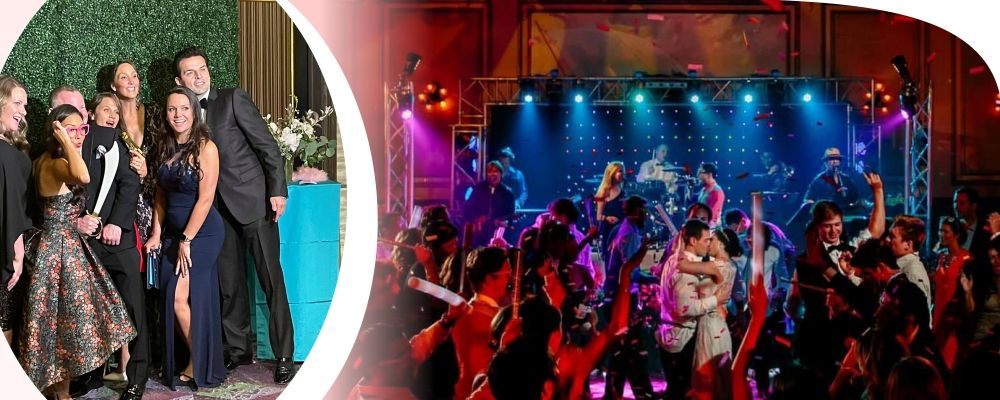 There is no doubt that your wedding preparation has been loaded with magical moments. There is also a decent amount of stress-inducing disputes to be handled in terms of reception musicians. And among the most significant is what to do about the music for your wedding and reception. Will you prefer to go with a DJ, or should you have wedding reception musicians? Will you go all out and hire both, or have none and engage your karaoke-loving family friend to serenade your guests? 
You will view plenty of opinions on the internet, and the debate may rage hot, creating even more confusion. Do not fear. We're swooping in to save you from an argument and soothe the stress of deciding the best option for you without getting carried away by the views and rumors that critics often trust. 
What Do The Critics say The Majority Community Thinks About The Wedding Reception Musicians? 
There's Not Enough Variety With Live Bands/ Musicians To Entertain The Guests 
This statement doesn't go well in the context of wedding bands or musicians. Yes, a DJ can indeed download a song you request if they don't have it in their collection (though experience has shown that not all DJs will bother doing it even when you request). Live bands/ musicians may need a little more lead time to learn a song. But despite that, professional musicians who perform in multiple events have tons of songs in their repertoire, even the new ones as well. In fact, The Pictures Band can often play several different genres of music from classical to rock, to pop, to Latin, to current dance songs, and even more on public demand. 
Live Music/ Bands Are Just Loud, Especially For A Classy Ceremony 
Unless you intend to rent the local garage band with one volume that's obnoxious—this is also simply not right. As professional musicians, we are pretty flexible and adept at regulating the volume of the music to suffice the room's mood. Bands like us experienced at playing custom or background music understand how to avoid overpowering a room. However, the amps set up around the room by a DJ can be grating on those sitting close by them. 
Wedding Bands/ Musicians Require To Take Breaks 
Yes, that's right. Those performing on the stage are humans and are inclined to human needs (rest, sit, relax, eat, drink). But is this really a deal-breaking concern? Best Live Wedding Bands Austin, TX, doesn't aspire to break up the flow of dancing or celebrating than a DJ does. Find a wedding band with the means and know-how to play a few recorded songs (on guest demand) during their downtime, meaning no actual break in dancing, and the celebration can go on, and your guests can enjoy without any hindrance or stoppage. 
Live Bands And Musicians Are More Expensive 
Similar to things you spend for, it depends. Live Wedding Bands or musicians may charge more than a few DJs or be less costly than others. If you notice a band or musician whose sound you admire, but their pay is out of reach for you, the bandleader or manager is open to discussing, making the hiring an affordable option. At The Pictures Band, we negotiate by decreasing the number of musicians, reducing the number of songs, adjusting the time. 
The Music Is Not As Soothing As Recorded Songs 
Surprisingly, the critics were remarkably off base with this one. We've all heard a famous musician, singer or/ on the radio, but when seeing them live in concert, it may make you think, "Is this the same personality? This sounds nothing like what I've heard before!". It's not the same for most professional musicians who perform at weddings, wedding receptions, and other events. Wedding reception musicians and band artists have had years of practice & degrees in musical arts. Even those without qualifications have a passion for performing live and are thrilled to play/ sing what they love for their audience, who appreciate it. 
If you've heard audio or viewed video recordings of a band or musician that you are regarding but still have suspicions about, find if you can get a live sample of their music or ask others who have attended their live show in person. In any event, it's an excellent idea to take a well-rounded picture of what the live band can deliver and how they interact with their clients & guests. 
The Live Wedding Band Will Upstage The Bride And Groom 
Funny. Once the bride-to-be begins walking down the aisle, no one thinks, "man, this band is the most impressive and amazing thing I saw today!" All attention is on her, and the live wedding band is just background to accompany her down the aisle. Of course, as mentioned, the best Live Wedding Bands in Austin, TX, will bring that mystic, memorable component to the wedding–something that couples desire. The band leaders are not watching out to steal the thunder from your special day. Openly expressing what you require or don't want beforehand will stop any random hiccups or distractions. 
The Bottom Line! 
The musicians at The Pictures Band are flexible, skilled, and guaranteed to furnish a one-of-a-kind performance. Frankly, adding live bands or musicians adds elegance to your affair or rock the party and create long-lasting memories for everyone in attendance. Give us a chance, and we will help you rock the party and engage all your guests.